Interview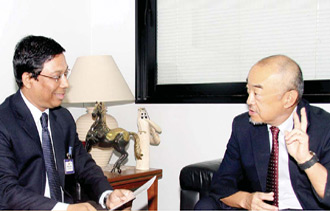 Bangladesh is a very good place

Mr. Shiro Sadoshima
The Ambassador of Japan


Bilateral relationship between Bangladesh and Japan

Wheel : Japan and Bangladesh have enjoyed very good bilateral relationship since the establishment of diplomatic relations about 40 years ago. How do you foresee this relationship foster further in days to come?



Honorable Ambassador : If you look back to the history of diplomatic relations between the two countries, economic cooperation stands out. As many people know, Japan has remained No.1 donor for Bangladesh over the past several decades. And, I am hopeful that Japan will remain so in the years to come. Let me first explain our assistance to Bangladesh. In providing assistance, we have two major targets; one is to achieve sustainable economic development and the other is to improve medical and health services of the country.

Speaking of sustainable economic development, the Government of Bangladesh has announced its national goals through "Vision 2021." However, looking at the current situation, the country still needs strenuous efforts to achieve these goals. Particularly, the shortage of power supply and inadequate infrastructure are stringent. In this regard, we are helping Bangladesh to construct power plants, and upgrade electric distribution network, while focusing on the construction of bridges both in urban and rural areas with a view to facilitating the movement of people and goods. It is worthwhile to note that Japan has helped the Government of Bangladesh to construct more than 550 bridges in the country.

With respect to medical and health services, Japan has put emphasis on maternal and child health care. Maternal and child health care is one of the major targets that Millennium Development Goals (MDGs) aim for and Bangladesh has shown good development record in this area so far. However, with huge population, Bangladesh also has to face a bigger challenge to meet the target. Japan has, with experience-based-expertise, introduced a community care service for mothers and children of Bangladesh to help achieving it. A number of Japanese experts are working closely with your central and local governments, at upazila and even union levels.

These are excellent examples of economic cooperation, but what I want to stress here is that trade and investment between the two countries have not reached its full potential yet. Japan ranks as the 5th largest on a Bangladeshi import list and 10th largest on an export list, while total investment by Japan in Bangladesh is only 8th largest. The good news is that the two countries have gained momentum; Export from Bangladesh to Japan has tripled between 2009 and 2012; Bangladeshi exports of apparel products to Japan in 2012 was 20 times as high as that in 2008; The number of Japanese companies doing business in Bangladesh has more than doubled over the past five years. I am now making all-out efforts to enhance economic ties between the two countries in the days to come.

Plans for the coming years
Wheel : Last year Bangladesh and Japan celebrated the 40th anniversary of diplomatic ties. What are your plans ahead?

Honorable Ambassador: 2013 marks the 40th anniversary since Japan Overseas Cooperation volunteers (JOCV) started their work in Bangladesh in 1973. In the very first batch, there were only 3 agricultural-sector volunteers. Since then, the total number we have dispatched to your country is about 1200. While working at the grass roots level with a good command of Bangla, those JOCVs, including 470 female JOCVs, have contributed to the development of Bangladesh in such various fields as education, environment, governance, health, IT, rural development, sports and vocational training. To commemorate the 40th anniversary, JICA is planning to hold a special ceremony on 14thJune. I believe this will be a golden opportunity for us to appreciate their activities over the past four decades and to make good use of the experience for a better cooperation in the years to come.



Ambassador's Personal View on Bangladesh
Wheel : You have been in Dhaka since 2011 as Ambassador, how do you see Bangladesh?

Honorable Ambassador: This is one of the most exciting posts I have so far experienced. The most impressive thing of the country is the people. They are basically happy persons. I like their smiles. They also work hard and take pride in what they do for profession. No wonder that the people are generally satisfied with their life and the GNH (Gross National Happiness) is among the highest in the world.

One other thing is the art and culture. It takes deep roots in the people's life. Rich or poor, they all enjoy the art, including the performing arts: songs and theatrical performances. When you visit friends, you will find a lot of paintings hung on the wall. They make your life very rich. You will run into good artworks in villages as well. Bauls are not unusually found almost everywhere in the country, singing beautiful Baul songs, including those of Laron and others', which people love so much. In the country, it would not be exaggerating to say that all most everyone is a Tagoresangeet. It is quite admirable that friends get together in the evening to listen to Tagore songs.

Earthen pots and pans are also beautifully designed. They paint pictures on the lids of them to decorate vacant space. A Japanese curator argues that in the era when people have lost the common vision of art, the art which has been tested by time and generations of people may survive well into the end of the century and beyond, and that the Bangladesh culture is obviously one of them. I am now trying very hard to let my countrymen know more about the fantastic Bangladesh art, working together with the aforementioned curator to bring them over to a Japanese art festival, which attracts a huge number of visitors -- most likely more than a million over six months time.

All in all, I am enjoying the posting more than ever and I anticipate the country is going to be the most unforgettable place of posting in my whole diplomatic career.